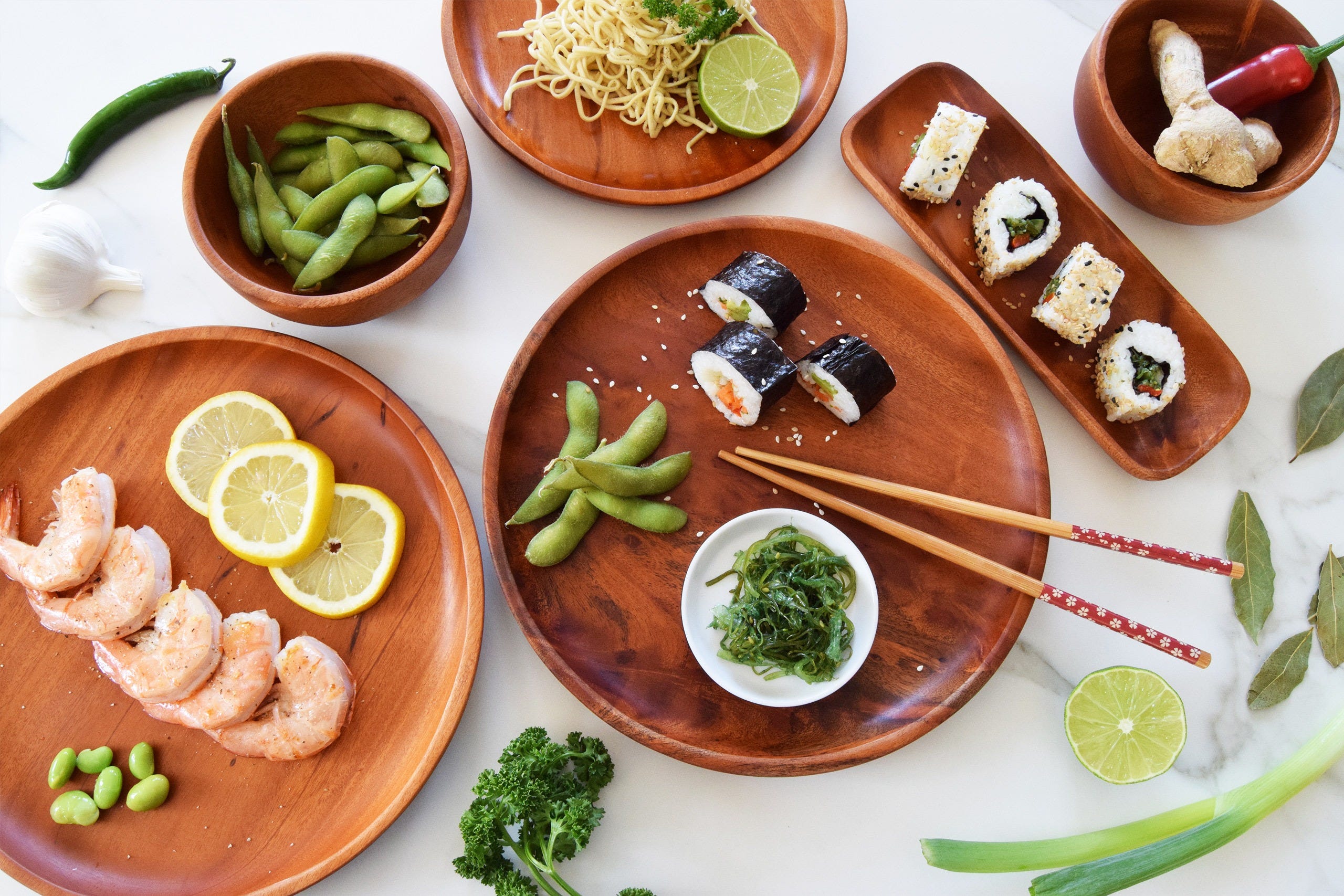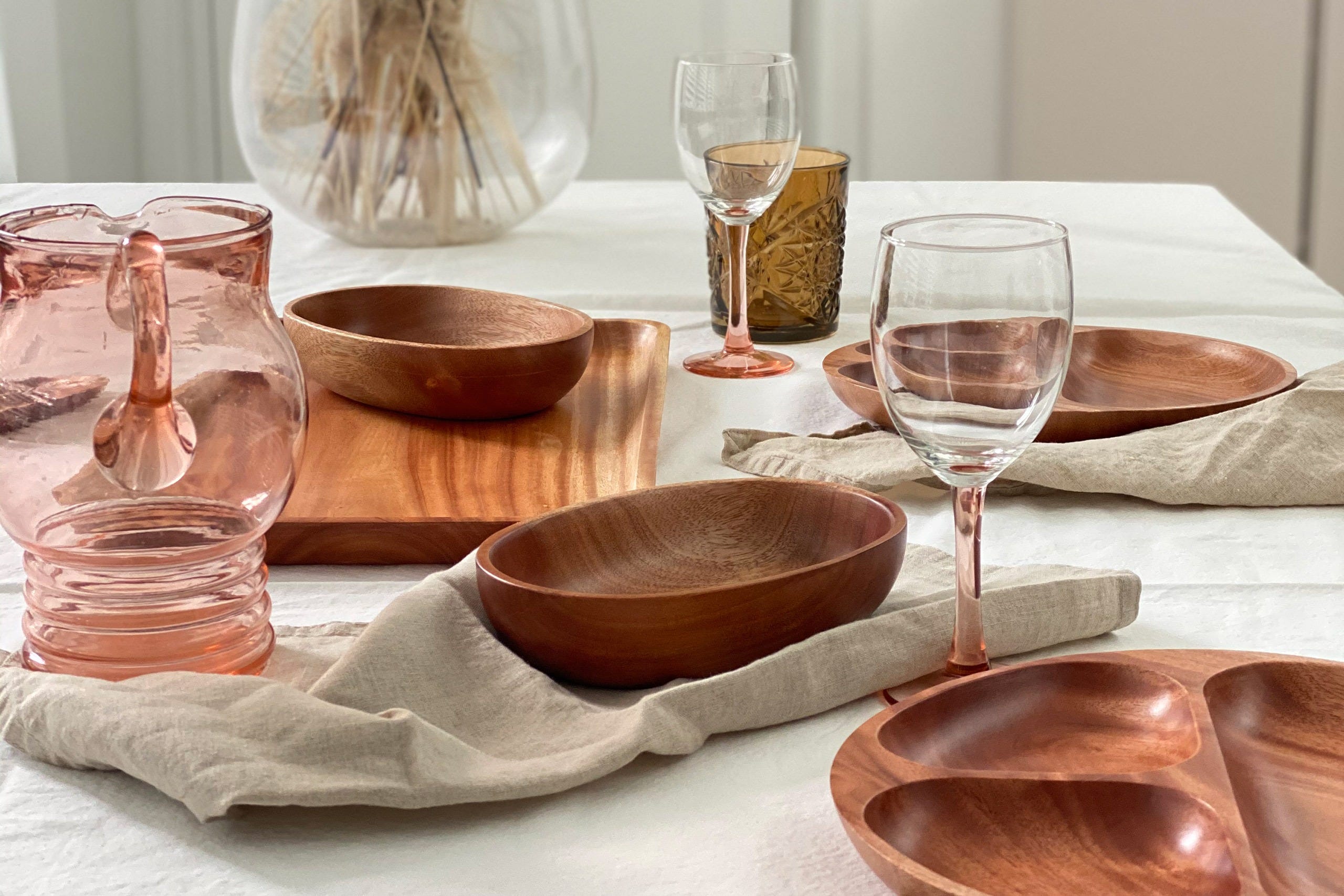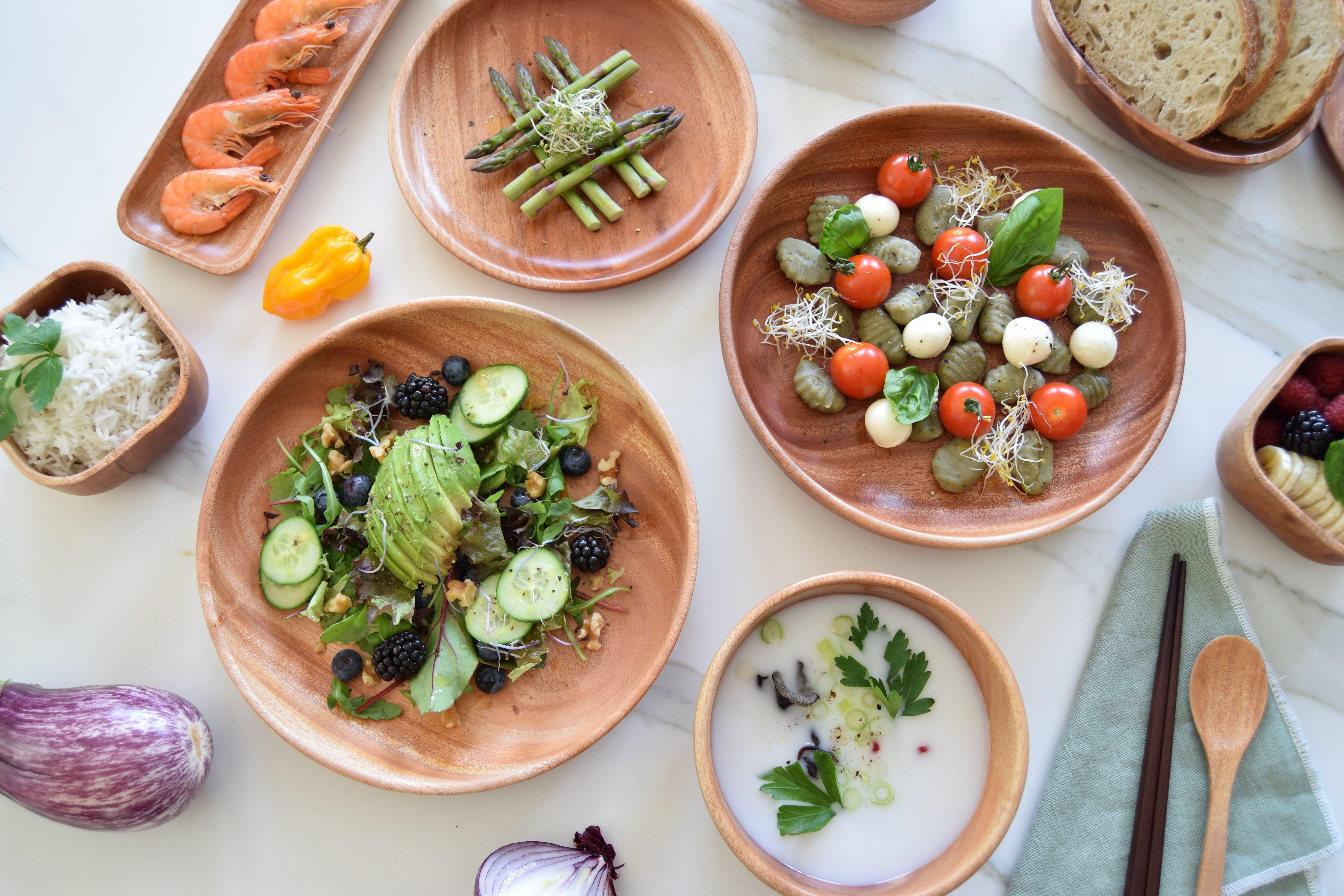 Explore our tableware collection made exclusively of Khaya mahogany wood today. Khaya lifestyle products are one-of-a-kind pieces of art, with a distinctive aesthetic that will add a touch of natural charm to any home and every tablesetting.
Sustainability in style
Woodware brand Khaya combines style with long-lasting design. We offer you an eco-friendly tableware collection including bowls, plates, cups and cutting boards. All our products are handcrafted from 100% natural Khaya mahogany wood, sustainably sourced and free of harmful lacquer.
Minimalistic design
The natural variety of colors and grain patterns is a testament to the uniqueness of each Khaya product. All items carry a rich reddish mahogany brown appearance and have a minimalistic Japanese inspired design, that makes it a sophisticated and serene addition to your tablescape.
Eco-conscious lifestyle
Many of us are making more lifestyle decisions based on sustainability. And purchasing products made to last, that will not fuel the throwaway nature of the modern world and don't affect the environment throughout its useful life, is a great step in the right direction.
Close to nature
Our beautiful woodware with timeless qualities, created by people with a passion for what they do, is especially designed for you! The Khaya wood's warmth provides you the feeling of nature, the earthy tones give you an exquisite sense of relaxation and quietness.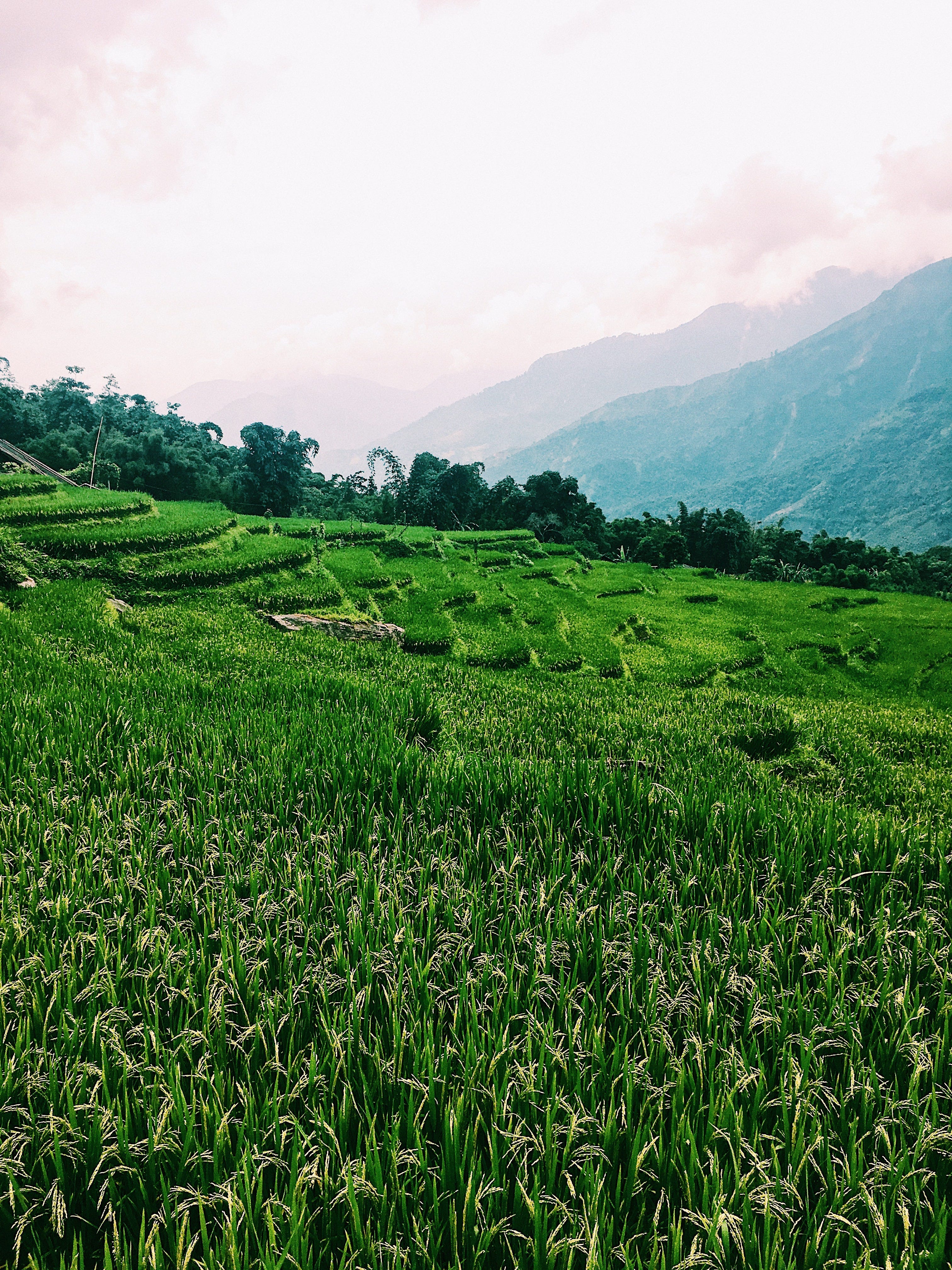 100% natural & unique
Khaya's durable design, stylish chic look, and the use of an extremely smooth surface ensure that these items can be saved for the most prized of occasions or enjoyed for every day use.


100% natural, no harmful lacquer
Durable, reusable and long-lasting
Unique products, no two are exactly alike
Artful mahogany wood grain patterns
New! Appetizer serving tray
Entice your guests with appetizers, pastries and other delicacies served on a minimalistic and aesthetic wooden tray. Striking in its simplicity, this natural Khaya wood tray mixes beautifully with wood or ceramic serving pieces. Its curved edges and subtle wood grain perfectly present crudités, sushi rolls or a selection of fine cheeses and fruit. Also nice for small breakfasts, cocktails and combined with our square bowls. Let the party begin!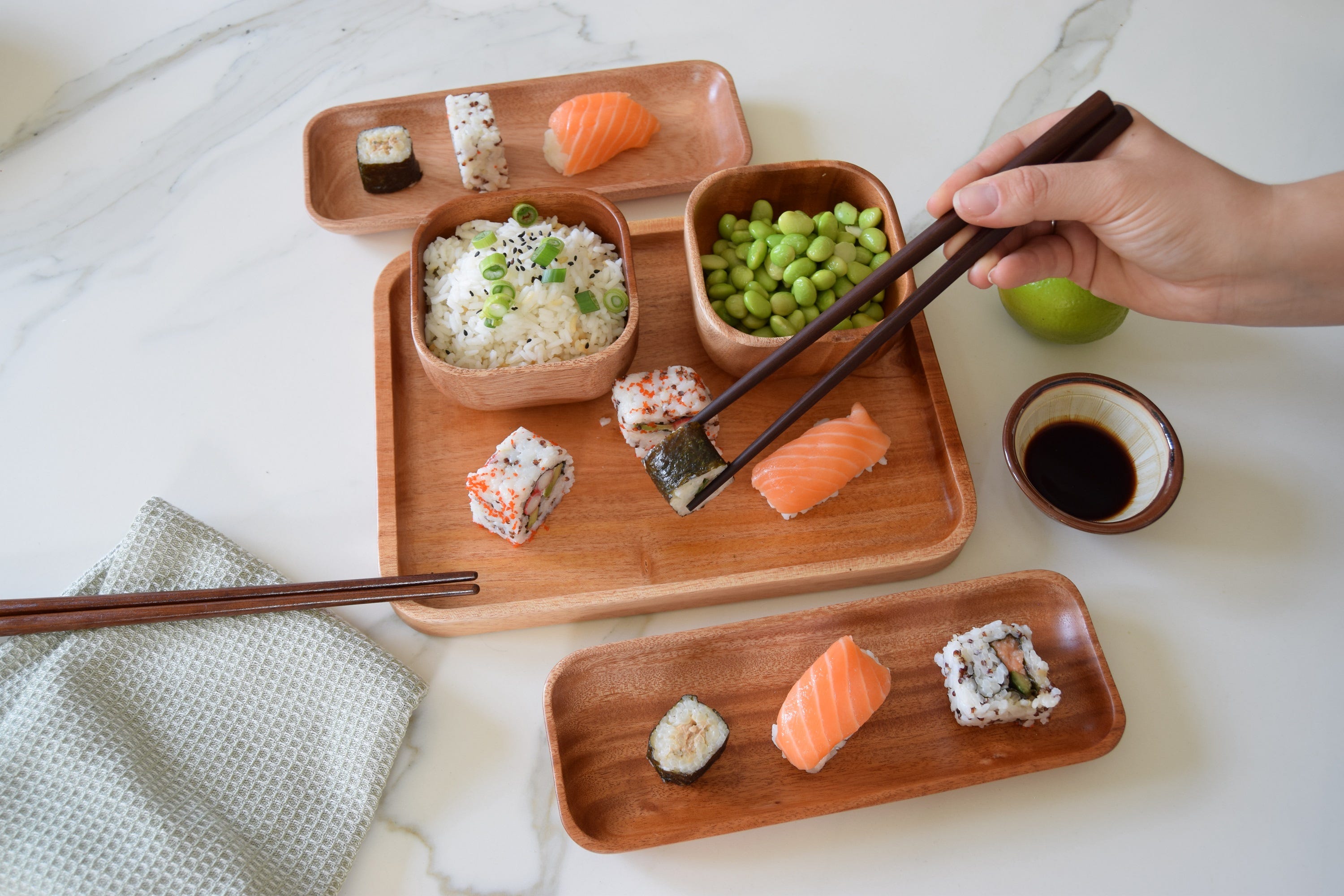 Khaya kids collection
Turn fussy eaters into foodies with these adorable sectioned Khaya wood kids plates, perfect for when the strawberries can't touch the blackberries, this cute little rabbit and funny bear is sure to make mealtimes fun!
Eco-friendly child's plates
Our wooden kids plates are naturally anti-bacterial, ecologically friendly & bio-degradable. Tableware that simply breaks down in the soil just like plants, to leave a clean world for our next generation!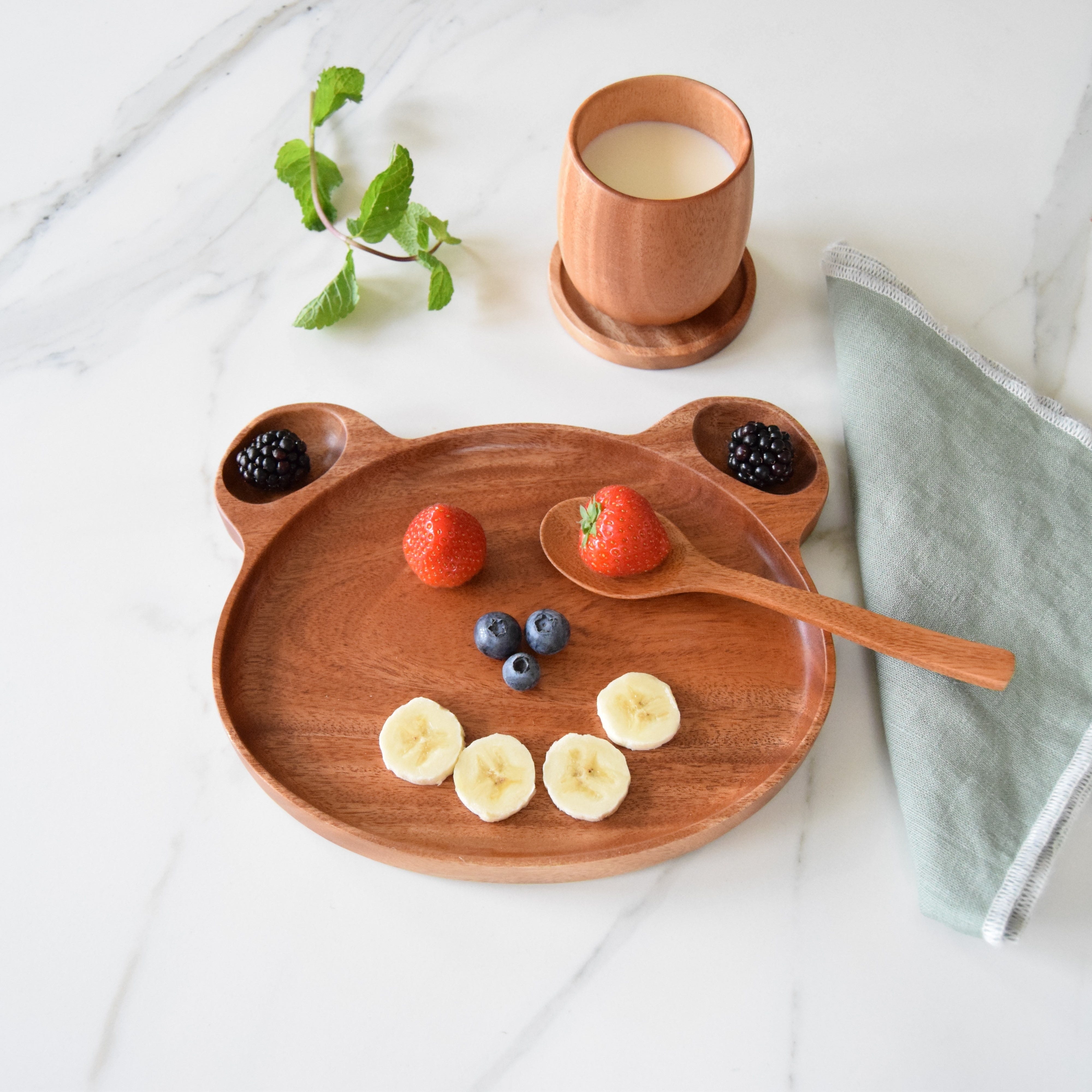 Buy natural eco-conscious pieces of art!
Khaya unites sustainability, practicality and aesthetics in an artful tableware collection. Each unique collection piece represents pureness, quality and artisanship. We consider our products as the perfect gift for someone you care for, with love for nature!
"Beautifully designed plates. Our kids are gonna like that!"
Sanne Vogel
Director, Writer, Actrice & Foodie.
"I have to admit that I am a huge fan. Ordered products were beautifully wrapped and fast deliverd! Perfect for any Asian food but especially for sushi. Stylish design and on top of that: all products are sustainable!"

Jori Trouw
"Stylish tableware, I have lots of products. Ideal gift items or as a treat for yourself! The quality is excellent and it's really an eyecatcher on my table setting. I strongly recommend these products!"

Simone Koedam
"I am very happy with these Khaya products! Nice and trendy looking bowls to serving dips or tapas. Looks stunning on my table, and in my cupboard. The products are quick and easy to clean by hand."

Annabelle Romijn
Keep informed about Khaya
We are continuing develop new products that will help make our table scape more and more thoughtful and sustainable environments. Follow us on our socials to keep informed.